Saturday, October 3, 2020 – after the shoot
- after the shoot, around 12:00pm noon
Jacksonville Clay Target Sports
12125 New Berlin Rd.
Jacksonville, FL 32226
Lunch
Live Auction
Reverse Ticket Draws
Penny Board Sales and Drawings
Awards
Signature and Gold Level Sponsors will be invited to a Special VIP Shoot on Friday, February 5, 2021 hosted by DEX imaging.

Special Thanks to our Sponsors!
2020 Sponsorship opportunities Still Available – Act now as they are selling out fast!
PRESENTING SPONSOR
Dex Imaging, Inc.
SIGNATURE LEVEL
Bozard Ford
Safariland Group
Safariland Group
N.G. Wade Investment Co
SIGNATURE SPLIT
Milam, Howard, Nicandri, Gillam, PA/Birchfield & Humphrey
GOLD LEVEL
Amports
Cecil W. Powell & Company
James Hinson Electrical Contracting
Marietta Sand Corporation
McCall Services
Rolfe & Lobello
Scherer Construction
Truist
Turner Pest Control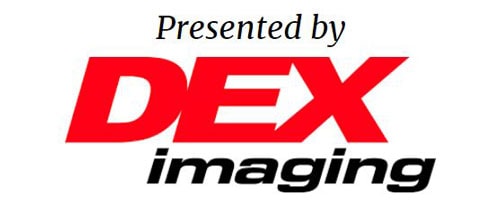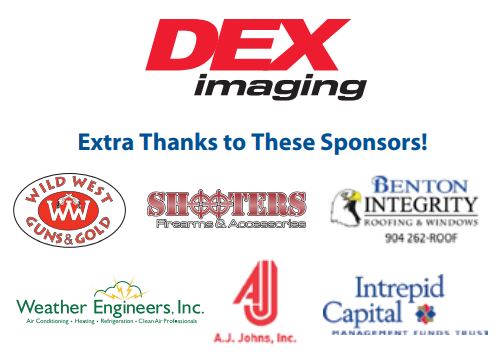 PRESENTING SPONSOR
Dex Imaging, Inc.
SIGNATURE LEVEL
Bozard Ford
Safariland Group

SIGNATURE SPLIT
HF Golf & Promo / Regional Development,  LLC
Milam, Howard, Nicandri, Gillam & Renner, PA/Birchfield & Humphrey
GOLD LEVEL
Amports
Cecil W. Powell & Company
Fickling Construction
Intrepid Capital Funds
James D. Hinson Electrical Contracting
KB Homes
Marietta Sand Corporation
McCall Services
N.G. Wade Investment Co.
Richard L. Oreair & Company
Rolfe & Lobello
Scherer Construction of North Florida
SunTrust Bank
Turner Pest Control
SILVER LEVEL
Abentras
Aegis Fire and Integrated Services
Alexander Dentistry
Alluvion Staffng & Beson 4
Arlington Toyota
Bachara Construction
Balch & Bigham Contractors
Beacon Electrical Contractors
Bender & Modlin Fire Sprinkler, Inc.
Bishop and Draper, CPA's
Brooks Building Solutions
C&R Electrical Services
Charles (Randy) Thomas, III of Wells Fargo Advisors
CRES Commercial Real Estate
DeBerry Electric Co. Inc
Doc's with Guns
Donovan & Abercrombie Insurance
Graybar Electric
Hart Resources
Hulsberg Engineering, Inc.
K.C. Petroleum
LandSouth Construction
Rexel Electric Supply
RPM Automotive
Ring Power Corp
Sight & Sound Production
St. Augustine Imaging Center
W.W. Gay Mechanical
World Electric Supply /Milwaukee Tool